2021 Ford Bronco
The Ford Bronco became a living legend, and now the legend is coming back to life in spectacular fashion. The new Ford Bronco will set the new standard for compact SUVs. Its rugged design, powerful engine, and superb off-roading abilities will make it one of the most sought after vehicles available.
Our team at Byers Ford thought it would be helpful to get the good people of the Delaware, Marion, and Sunbury OH areas accustomed to this vehicle with this collection of Ford Bronco reviews. We'll give brief summaries of its intriguing features and provide links to our more in-depth reviews. Don't hesitate to contact us directly if you still have questions!
Order the 2/4 Door Bronco
Order the Bronco Sport
2022 Ford Bronco Review
Ford Bronco Interior
Top-Notch Performance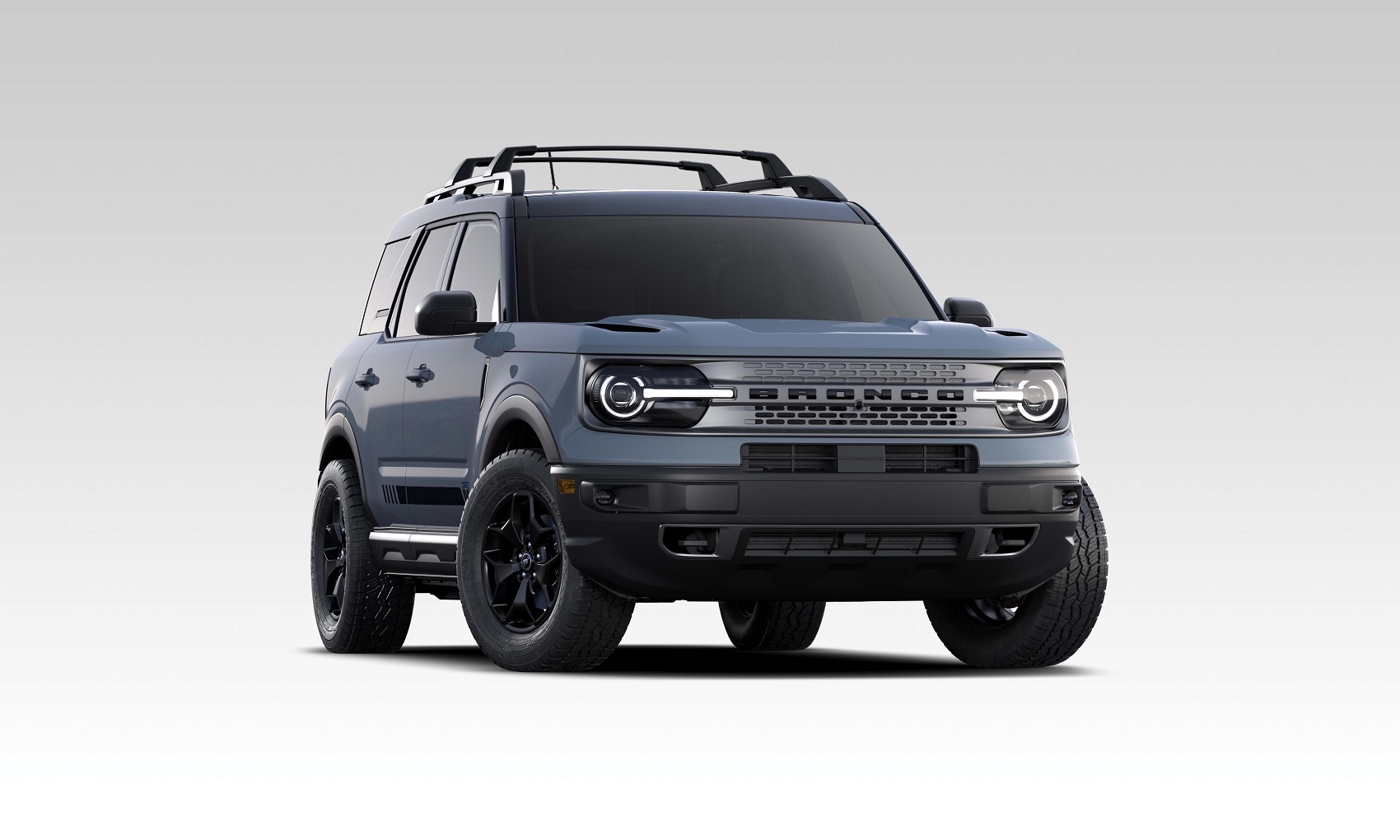 Sitting on a rugged set of available 30-inch All-Season Tires, the Ford Bronco's upgraded 2.7L EcoBoost® engine is projected to produce a potential best-in-class 310 horsepower with 400 lb-ft of torque. This is more than enough power to handle almost any obstacle.
Speaking of handling obstacles, the 7-speed manual transmission (6+1 Crawler Gear) and Terrain Management System™. This system, designed to adjust the vehicle's driving dynamics for the type of terrain you're driving on, will allow it to handle the most challenging of off-road conditions.
Intelligent Entertainment System
The Ford Bronco comes standard with SYNC® 4, which is expected to be Ford's most impressive entertainment and communication system yet. The system will be available in up to a 12-inch touchscreen. Behind that beautiful screen will be a powerful processor that will take the intelligence of your vehicle to the next level.
A Gorgeous Cabin
The comfort and style of the Ford Bronco's cabin is something to behold. The Bronco will have an optional gorgeous leather-wrapped steering wheel with the famous Bronco logo in the center. Also available are a leather gear shift knob and leather-trimmed seating that will be comfortable, durable, and highly stylish.
Rugged and Customizable Exterior

The exterior of the Ford Bronco oozes power and style. The available heavy-duty modular front bumper just screams confidence, and the standard removable doors and tops will get you feeling like one with the elements. Meanwhile, the upgraded bash plates in the front will give you peace of mind when you are in the elements!
Smart and Safe
Technology is everywhere in the Ford Bronco, especially when it comes to safety. It is packed with cutting-edge safety technology, such as the Front and Second Row Safety Canopy® Side Curtain with Rollover Sensor and the Personal Safety System™. This smart safety system was designed by Ford to improve the overall level of frontal crash protection!
Exciting Trim Levels
The Ford Bronco comes with a plethora of trim levels for every type of driver. Whether you're looking for more of a powerful off-road vehicle or a stylish everyday ride, the Black Diamond, Big Bend, First Edition, or another trim will give drivers options to find the perfect Bronco for them. Browse our new Ford specials.
Discover the True Wonder of the Ford Bronco Today
Spend some time exploring our Ford Bronco reviews. Familiarize yourself with the legendary vehicle, then stop by Byers Ford and reserve a Bronco! See for yourself what it's like to drive a living legend!