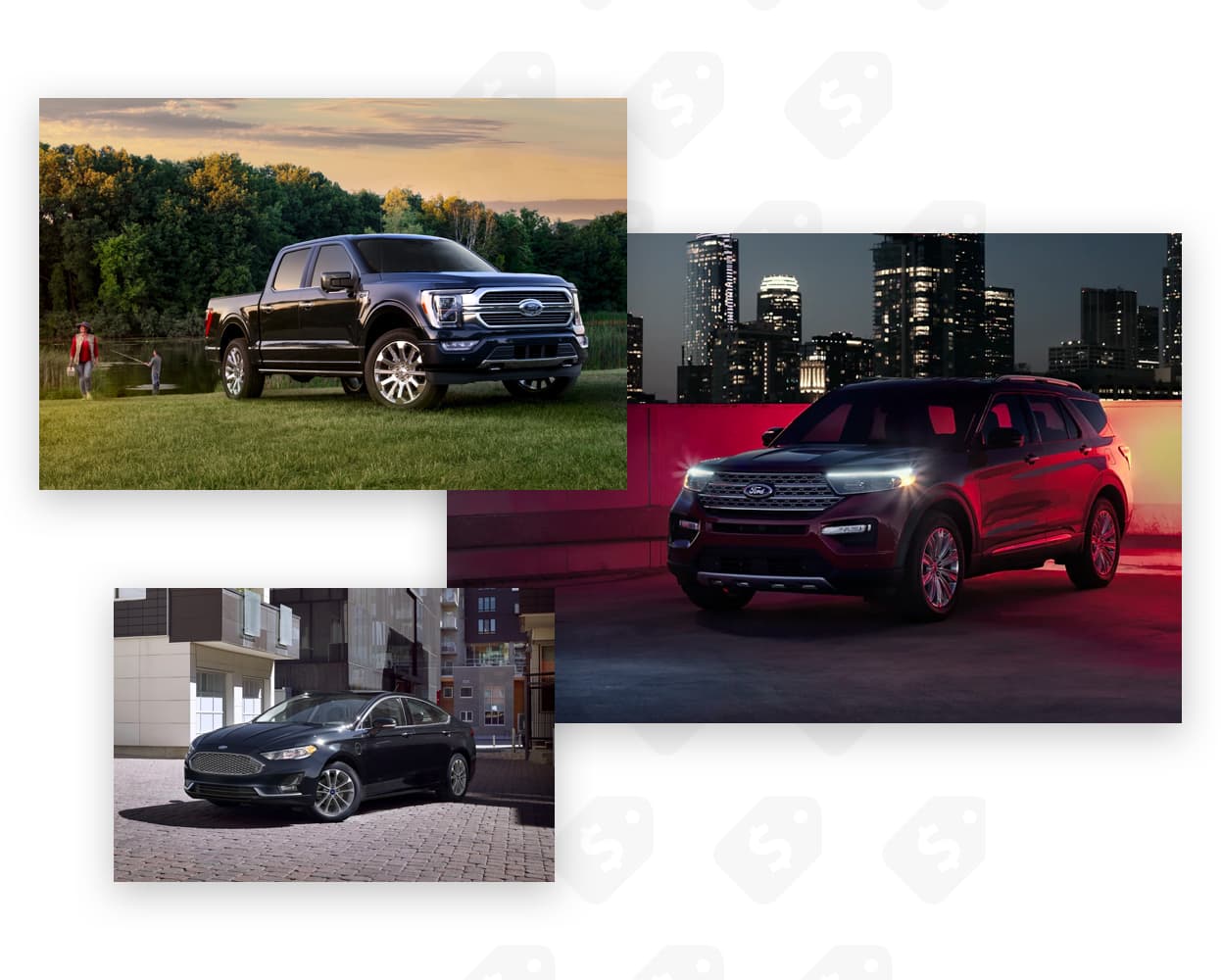 Take Advantage of This Month's Current Offers
Every month Ford releases incredible cash-back offers and special financing rates along with discounts featured in other special programs.
We're Here For You
Byers Ford always puts customers first!
Don't take our word for it: Read our reviews and see what everyone is saying.
Great place to buy a car and good people to deal with. Keaton was great to deal with.
Carson in service is always very helpful and kind. Mark in sales is the best!!
I stopped by Byers Ford to look at the electric F150 Lightning truck. Jeff Ashbrook showed me the truck I was interested in, took a test drive then showed all the features . Jeff was very friendly and easy to speak with. We worked up a very reasonable deal, I was hesitant .... I've always drove GM vehicles. With zero pressure from Byers I waited a week and finally decided to make the purchase. Finance and signing the paperwork was an absolute breeze. If they have a vehicle you are interested in, I strongly recommend Byers Ford and Jeff Ashbrook!
I took my Explorer in to Byers Ford for a recall . The appointment was easy to schedule and the work was complied with quickly and on time.
I was happy with my service. Truck was done correctly and in a decent amount of time.
After having a not so great experience at another dealership (we couldn't even get a sales person to come help us!) we headed up to Byers to check out one of their Broncos. Our salesman, Mark, came right out and was so attentive, kind, and helpful (without being pushy at all). The experience from start to finish was wonderful. The salesman, finance, and team up front could not have been nicer and made what is normally a not so pleasant experience so much better! Greatly appreciate this team and LOVE my new ride!
From start to finish my experience with Byers ford was great. Keaton was my salesperson and he was helpful and didn't pressure me into buying anything i didn't want. There was a crack on the windshield of the car i bought and they fixed it the next weekend and gave me the full treatment. 10/10 would recommend buying from here!
My car buying experience was exceptional. Byers Ford was trustworthy and communicated well throughout my new release Bronco vehicle purchase. Special thanks to Dan Padgitt who worked with me for 2 years due to new vehicle production constraints. I'd definitely recommend Byers to my closest friends and family!
Simple part was not in stock but they ordered one for the next day. Next day new part installed but it was defective. New part #2 ordered but we had a few doctor appointments to attend so Sly offered us a very nice loaner for free. Plus their waiting area is very nice and has an office room for those needing to work.
Amazing experience great staff. I would highly recommend this dealership.
I ordered a Ford Maverick Lariat on the Ford website and selected Byers Ford as my dealer. The process took 6 months but it was well worth it. I was able to trade in my old vehicle and drive off with the Maverick and I'm very happy with my purchase so far.
Yes, I did. friendly staff, totally will be doing business again.
The sales and service people were very friendly , helpful, and knowledgeable at Byers Ford in Delaware, Oh. I had a very good experience purchasing a vehicle from them.
I can't say enough about Byers Ford and the Byers family of dealships in general. I recently purchased a new Ford from John G. at Byers Ford and as usual, I was treated with utmost respect, was not hasseled, and completing all of the paperwork was alot quicker than it is traditionally.
My car was done while I waited. They said it would an hour and half,but it was done in an hour.
As usual, service rep Tiffany did a great job and the cashier was wonderful staying a little late to let me pick up my car after the 6 pm closing time. Great service.
I was taken care of and that's what matters.
My sales rep Mark M. went above and beyond with my new purchase, he is very professional and friendly, he knows about everything Ford. He made the process very smooth and seamless.
I had the most amazing experience at Byers Ford in Delaware when I bought my MachE. I had started looking for an EV several months ago, had a very nasty experience at another Ford Dealership. This one was a superior experience both with Jeffrey Ashbrook and I simply love my new vehicle I've had for two weeks-Saundra S
Good experience. Grant was a pleasure to work with. Knowledgeable and kept me updated on my purchase. Haven't owned a Ford in years but so far very pleased with my Maverick.
A huge THANK YOU to Isaak Caldwell and Dan Padgitt for all the information and assistance that led to a 2022 Ford Maverick purchase. The Mav is in demand, but I received a detailed call from Isaak once one came available that fit my preference. Isaak and I were able to negotiate amicably towards a mutually beneficial conclusion. Shout out to Dan for helping me set up some of the truck dashboard features, your patience and comradery was appreciated. Shoutout to Bob Drollinger for assistance during the negotiation process, it was straightforward and painless. And finally, shout out to Bill Thorpe for aid in navigating and completing the finance and regulatory paperwork associated with the purchase (thanks for making sure I get those Ford reward points!). They've got wonderful folks working at Byers Ford, if you're in the market for an automobile and happen to be in their vicinity, stop by and start a conversation.
Excellent customer service!! Any issues were resolved quickly and couldn't be happier!!
Always great service. Tiffany Marks does a Great job!
This was the BEST experience I've ever had buying a car. Ellijah and Bill made the whole process fast and painless. Ellijah was my salesman- he was quick to contact me about my inquiry about a test drive, answered all my questions, and did what he promised by having the car ready for me to drive at the agreed on time. He was so nice and polite and professional. Bill did the finance side of the deal. He is also so fantastic- answered all my questions, worked with me on getting the per-month payment I wanted, and finally explained gap coverage to me in a way that made it so easy to understand(fianally). I will absolutely recommend them to anyone looking to buy a car.!
Had a small issue with the retractable consol door not staying open Took awhile to get the part, but installation went well,everything put back together nice and tight and problem solved.Thanks

Welcome to Byers Ford
Byers Ford is a family-Owned and -operated Ford dealership near you that's been serving central Ohio drivers Since 1897! Since the first vehicles were introduced, we've been proud to have been supplying drivers for generations. While much has changed since the 19th century, our commitment to drivers in Delaware and the surrounding areas has never wavered, and we continue to strive to be a go-to dealership for the generations to come!
If you start looking for a new or used car in the Marysville, OH region, we encourage you to visit our Ford dealership near you. Let us help you find the vehicle that you can enjoy and afford. Our sales team will make sure that you have as much time as needed to browse our inventory and provide you with a test drive. Our auto finance team will assist with getting you a great deal on your next vehicle in the Lewis Center, OH area. Our dealership has a welcoming environment, and you can depend on a hassle-free experience. We look forward to your visit soon!
Read More