It's no secret that the Ford F-150 pickup truck has a tremendous towing capacity. If you go with its 3.5L EcoBoostÒ V6 engine, its 375 horsepower and 470 lb-ft of torque will equip you with a conventional tow rating of up to 13,200 pounds. Imagine all that you could accomplish with that power!
Our team here at Byers Ford is just as excited about the Ford F-150's towing capacity. That's why we want to share it with our customers around Delaware, Marion, and Sunbury, OH.
Keep reading to learn more about it and feel free to contact us if you still have questions!
Ford F-150 Towing Capacity
As you know, full-size pickup trucks like the Ford F-150 come in a variety of trim levels and configurations. So, your exact towing capacity is going to depend on which model you're driving and which engine is powering it. Here's a table to help you make the most sense of all of the numbers. Take a look!
| | |
| --- | --- |
| Engine | Towing Capacity (lbs.) |
| 3.3L Ti-VCT V6 | 7,700 |
| 2.7L EcoBoostÒ V6 | 9,000 |
| 3.5L EcoBoostÒ V6 | 13,200 |
| 5.0L Ti-VCT V8 | 11,500 |
| 3.0L Turbo Diesel V6 | 11,500 |
There's also a High-Output 3.5L EcoBoostÒ engine. This beast, which delivers 450 horsepower and 510 lb-ft of torque, is only available on the Ford F-150 Limited and Ford F-150 Raptor trim levels. On the Limited, you'll be able to tow as much as 8,000 pounds; on the Raptor, you'll be able to tow 11,100 pounds.

Ford F-150 Maximum Payload
But towing is only part of the puzzle of productivity-there's also your payload. With its 5.0L Ti-VCT V8 engine, Ford's F-150 lets you carry a payload of 3,270 pounds. Ratings for its other engines are as follows:
| | |
| --- | --- |
| Engine | Maximum Payload (lbs.) |
| 3.3L Ti-VCT V6 | 1,960 |
| 2.7L EcoBoostÒ V6 | 2,470 |
| 3.5L EcoBoostÒ V6 | 3,230 |
| 3.0L Turbo Diesel V6 | 2,020 |

For its High-Output 3.5L EcoBoostÒ engine, Raptor's max payload is 1,200 pounds and the Limited is 1,520 pounds.
State-of-the-Art Towing Technologies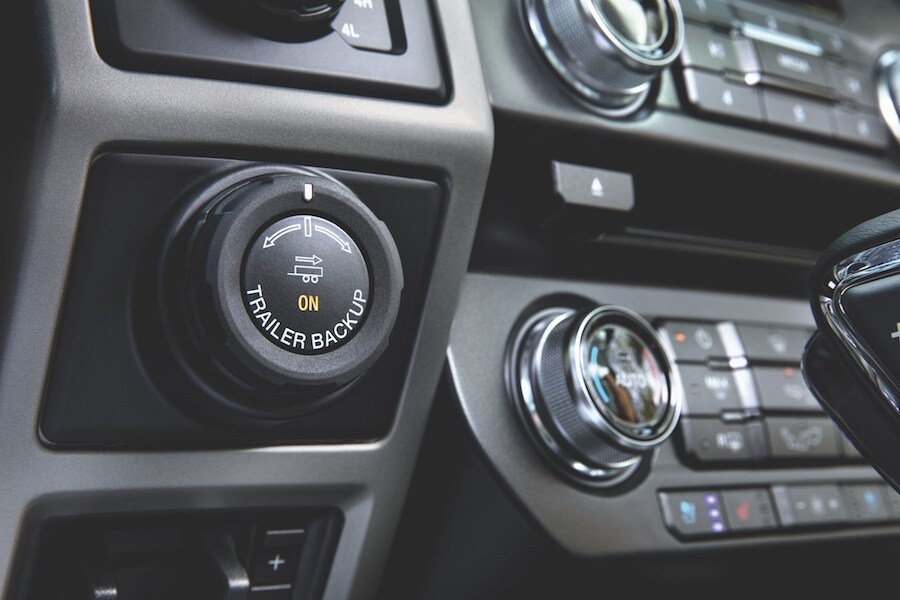 Fortunately, the F-150 doesn't just give you all of this power and throw you out there on your own. In true Ford fashion, this pickup truck is equipped with tons of standard and available towing features.
Pro Trailer Backup AssistÔ. This makes it so that truck and trailer communicate while you're backing up.
Dynamic Hitch Assist. It's never been easier to hitch your trailer to your truck.
8-Inch Productivity Screen. You can conveniently view all of the trailer information that you need to see.
Trailer Brake Controller. Gone are the days of truck and trailer brakes falling out of sync with each other.
BLISÒ (Blind Spot Information System) with Trailer Coverage. Not only can this state-of-the-art driver-assistive feature let you know when there's another vehicle in your truck's blind spot, but it can let you know when there's something alongside your trailer. This is invaluable for merging and changing lanes.
Get in Touch with us Right Now at Byers Ford to Schedule Your Test Drive!
Do you live around Sunbury, Marion, or Delaware, Ohio? If so, test driving the Ford F-150 has never been easier.
Reach out to us to set up a time to experience the extent of this truck's powers!